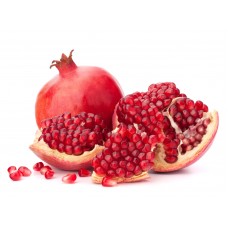 Pomegranates are well known for the various reasons like colour, clean skin and bold arils. This refreshing juicy fruit is so popular for the refreshing winey flavor of its juicy seeds as well as its health benefits.
Bhagwa is a premium Pomegranate variety from India. The Deep Red arils & the pleasing Red but rugged skin enhances the appearance whilst promoting shelf life of the fruit. The Fruit is ahead of the Wonderful variety in looks & arils quality and in external appearance as it is free from trips & black spots.
Specifications
Bhagwa
Size
180 gms to 400 gms
Shape
Round
Colour
Pink to Red
Appearance
Clean Free from Blemishes
Aril Colour
Pink to red
Taste
Sweet
Brix
15-17 (Varies with season)
Packed in
Corrugated Boxes
Box size
3.0 kg and 3.5 kg (net)
Fruit Count

180 to 200 gms - 18 to 19 No
200 to 250 gms – 15 to 16 No
250 to 300 gms – 12 to 13 No.
Above 300 gms - 10 No.
Season Table
| | | | | | | | | | | | | |
| --- | --- | --- | --- | --- | --- | --- | --- | --- | --- | --- | --- | --- |
| | Jan | Feb | Mar | Apr | May | Jun | Jul | Aug | Sep | Oct | Nov | Dec |
| POMEGRANATE | | | | | | | | | | | | |
| Bhagwa | | | | | | | | | | | | |